The Website
This website provides details about Accurasea.
It is published by Accurasea, a Ltd company with a capital of 1.000 €, registered with the RCS in Paris under the number 851 485 466. Our head office is 10, place de Catalogne, 75014 Paris, France. Our telephone number is +33 1 40 07 95 00 and our email address is contact@eolfi.com
The person in charge of the website is: Nicolas Paul-Dauphin
The website is hosted by OVH.
Protected rights
The contents of this website (hereafter "the Content"), developed by or on behalf of Accurasea, are protected by applicable copyright, trademark right, design and model rights and unfair competition laws.
Content includes architecture, corporate visual identity (including colors, fonts and graphic layout of screens), all information and materials available on the website such as text, articles, photographs, illustrations, visuals, brands and logos, all auditory (voices, music and sound effects) and still or animated visual content (graphic animations and audiovisual sequences), specific software developments and downloadable programs.
The content is the property of Accurasea or our technical service providers.
Any reproduction, depiction, distribution and/or use of all or a part of the Content, by whatever means, in whatever form or for whatever purpose, without the express, prior written consent of Accurasea is strictly prohibited. In any event and subject to the foregoing, the source, this website and Accurasea, and, if applicable, the author's name, shall be clearly indicated.
Persons violating the applicable legal provisions are guilty of copyright infringement and subject to the criminal penalties provided by law, notwithstanding any other recourse by Accurasea.
Liability
Accurasea provides no guarantee whatsoever with respect to content, notably any guarantee of quality, suitability for a particular use, ownership or copyright non-infringement. In addition, Accurasea excludes all liability of any kind for direct, indirect or incidental damages or loss of data or profit resulting from or associated with the use or operation of this website and its content.
Moreover, the website may contain inaccuracies or typographical errors.
The website is regularly revised and updated. Accurasea reserves the right to modify, correct or change it at any time.
The links featured on this website will take you outside of the website. They are provided for your convenience only and do not in any way imply approval or endorsement of said websites by Accurasea. Accurasea has no control over the target websites and no liability for their content, links, the products or services they offer or changes or updates made to them.
Trademarks or brands, product or service names, domain names and company names mentioned on this website remain the property of their respective holders.
Mention of links, trademarks or brands, names, services, domain names and the names of other companies in no way implies the existence of any association between Accurasea and those companies, products or services, trademarks or brands, names or designations in question.
Protection of personal data
Accurasea undertakes to implement the highest ethical standards.
In this context, the right to privacy is a key concern for Accurasea.
This information notice hereof has the purpose of presenting the measures implemented within Accurasea so as to collect, process and protect the personal data, which we may gather whilst you surf the Accurasea web-site www.accurasea.com (the "Web-site").
Who is responsible for the processing of your personal data?
The head of collection and processing of your personal data shall determine the objectives pursued, that is to say the use made of the collected data and the means used for this purpose.
The entity in charge is Accurasea SAS with a capital of € 1.000, registered at the RCS (Register of Trade and Companies) of Paris under the number 851 485 466, the registered office of which is located at 10, place de Catalogne, 75014 Paris, France and the telephone number of which is +33 (0)1 40 07 95 00 and the email address is rgpd@eolfi.com.
What is personal data?
"Personal Data" corresponds to any information allowing to identify you or to render you identifiable, whether directly or indirectly, in particular by reference to your name or for example your email address, your pseudonym, your IP address, your CV and any other data, which is specific to you, in particular your contact details (telephone and/or postal contact details).
What is personal data processing?
When you surf our Internet web-site and fill in our contact form, send in an application and more generally when you contact us by email or by telephone, this leads to Accurasea collecting and handling certain of your Personal Data and to process your Personal Data in this respect, in accordance with the specifications and limitations set out herebelow.
Accurasea undertakes to comply with the ongoing principle of the minimisation and proportionality of the personal data, which it is required to collect, taking into account the planned processing.
How do we use your personal data?
When we process your personal data, we pursue objectives (purposes), which relate to legal bases, which we have identified and summarised in the table here below: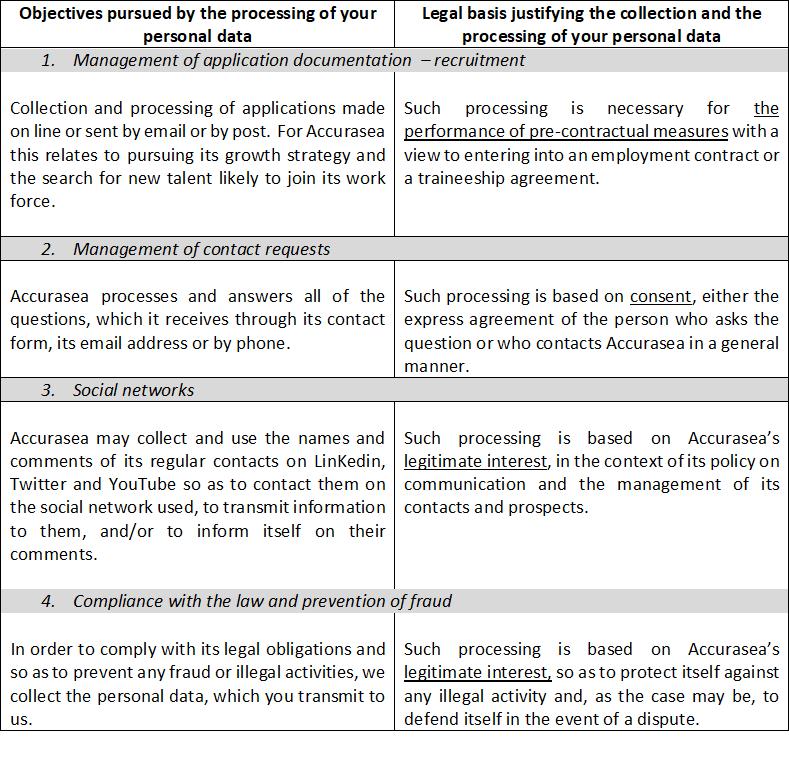 The EOLFI web-site uses cookies. In order to know more, we invite you to inform yourself on our cookie policy.
Do we share your personal data?
The personal data, which we collect on the Web-site, is transmitted to Accurasea's concerned departments, in particular as follows:
Application for a traineeship or employee position: human resources
Contact form: department concerned
Social networks: communications' department
In addition, Accurasea may communicate the personal data collected on its Web-site to:
Its service providers ensuring the maintenance, development and hosting of the Web-site and/or any service providers providing marketing tools;
The legal or administrative authorities in order to respond to any of their requests, Accurasea's lawyers or auditors (for example, in the context of an acquisition, an annual audit or with regard to the obtaining of a label (ISO standard type))
Accurasea however ensures that such transmissions and processing of personal data takes place in compliance with the legislation and regulations in force taking all necessary provisions and precautions with its service provider in particular regarding the limitations on the processing carried out as well as the necessary confidentiality and security measures.
How long do we keep your personal data?
Accurasea complies with the following retention terms, unless you express other requests: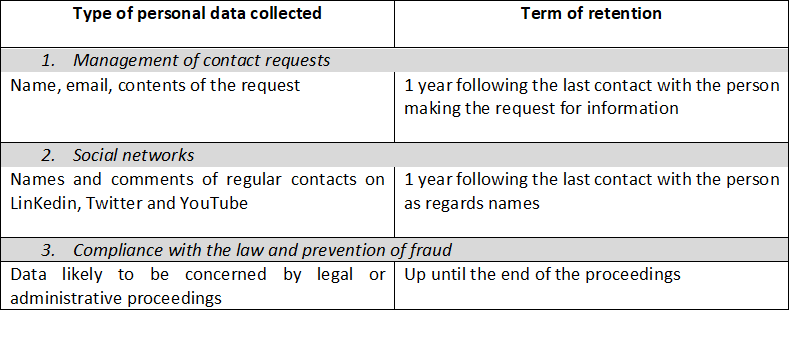 The terms referred to hereabove correspond to the maximum periods of retention. In a general manner, once your data is no longer necessary, we ensure that it is deleted or anonymised as the case may be.
What are your rights?
Any request relating to the exercise of the rights set out herebelow shall have to be sent to us via the rgpd@eolfi.com email address.
As regards your personal data, you may:
Revoke your consent, which you have given for the use of your personal data ;
Request access to your personal data: we can confirm whether or not we process personal data, which concerns you and in the affirmative, give you details of the processing methods and/or allow you to obtain a copy of your personal data;
Request that your personal data be rectified: for example, in the event that your personal data is incomplete or incorrect (e.g.: change of email or postal address), you may contact us so as to make the necessary corrections;
Request that your personal data be deleted: we will be in a position to delete your data in the following cases: your data is no longer necessary for the objectives pursued at the time of its collection, you have revoked your consent or you have exercised a right of opposition;
NB: Accurasea will not be in a position to delete data, which is necessary for the performance of a legal obligation or the exercise of the defence of its interests with regard to the administrative or legal authorities.
Request that Accurasea's processing of your personal data be limited: you thereby request that your personal data be retained without us being in a position to use it, unless this is necessary in the context of the preservation of Accurasea's interests with regard to the administrative or legal authorities.
 Make use of your portability right: you can ask us to provide you with your personal data in digital format, which is easily readable;
Provide for your digital heritage: you have the possibility of determining general and specific instructions relating to the processing of your personal data subsequent to your death and to communicate them to us;
Oppose the processing of your personal data: you may oppose the processing of your personal data resulting from social networks for which Accurasea has an account if we contact you in the context of a canvassing activity.
Who to contact in the event that you wish to make a complaint?
In the event that you wish to obtain further information or exercise your rights, you should contact us via the rgpd@eolfi.com email address.
You also have the right to make a complaint to the CNIL (French data protection authority) (www.cnil.fr). However, Accurasea wishes to state that it has implemented measures in order to respond to any question put to it within a period of 30 days.
Updating of the information notice
Accurasea may amend this information notice in the context of its policy of continued compliance, in order to improve its practices, to provide further detail of the communicated information and to adapt to legal or administrative (CNIL) developments and/or technological developments. You are invited to consult it regularly.